Solar Energy
Our Services
OUR SOLARIS NRGY DEPARTMENT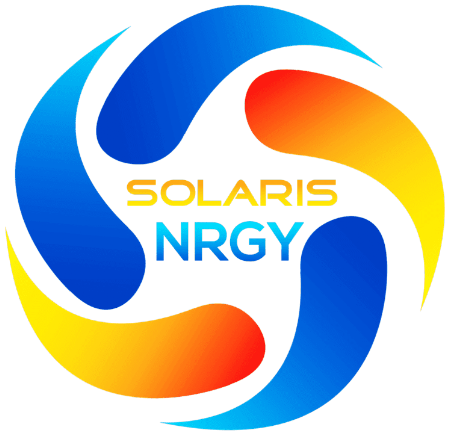 SOLARIS NRGY is the NRGY Projects company department in charge of solar systems and solutions.
Thereof, SOLARIS NRGY Team will provide customized solar solutions and projects to our customers, aligned to their needs, requirements, and expected application.
Solar energy shall be accessible to everyone. Our aim and highest commitment is to provide photovoltaic systems, which are ecologically sustainable to the actual stand of technology.
Your project executed by SOLARIS NRGY will only include equipment and components from manufactures, who are 100% committed to the sustainability of our environment.
After decades of installation and improvement of these systems, today's solar energy equipment is more reliable and affordable for the society. Its cost and amortization time have been significantly reduced (in average ~ 7-10 years for private systems and ~ 12-15 years for industrial systems – depending on its size).
The good quality components, outstanding efficiency of solar modules and impressive lifecycle of the equipment, makes solar energy very attractive for those, who want to save the increasing energy costs and contribute to improve our environment and to expand the needed GREEN MINDSET of our society for a more sustainable planet.
To grant the highest quality in service and competences to our customer, our photovoltaic team of experts are certified by PersCert (TüV-Rheinland).
Now it's the right time! Let's begin your SOLAR ADVENTURE together!
PHOTOVOLTAIC PROFESSIONAL SERVICES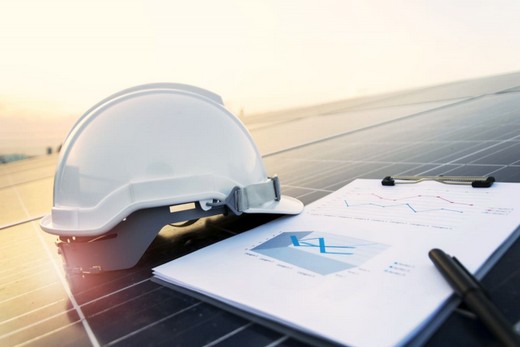 PV-Systems Audits
SOLARIS NRGY professionals are TüV-Rheinland certified photovoltaic equipment experts. We use the "latest state of the art" technical equipment for the analysis and evaluation of your PV-System. This grants an accurate evaluation and performance analysis of your system. Quality of the measurement records are key for qualitative result analysis providing excellence on the professional assessment to our customers: Private/Industrial PV-system owners, Insurance companies, Technical assessments for the clarity on disputes between parties, etc.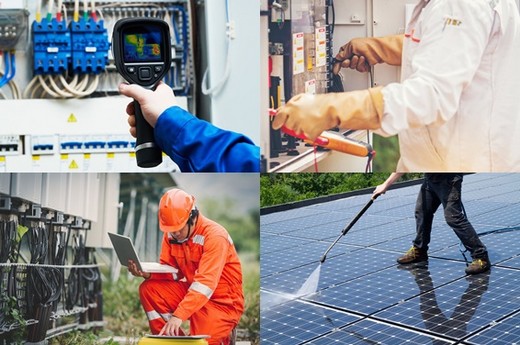 PV-Systems inspection according IEC62446-2
In accordance with IEC 62446-2 (VDE 0126-23), periodic testing/check of the photovoltaic system, focusing on safety-related, performance and proper safe operation conditions of your PV-system:
This test is mandatory for all existing PV systems:
Private PV-Systems (Info flyer)

Industries and PV-Power plants (Info flyer)

Our extensive testing of your PV system, using state-of-the-art technology, will determine if your system meets the safety requirements and is fit for the purpose for which it was planned. Inspection includes:
Isolation and electrical measures as specified in IEC 62446-2

Thermography check of PV-Generator and electrical connections boxes.

Cleaning of the PV-modules of the PV-Generator. For getting the best possible performance of the PV-modules.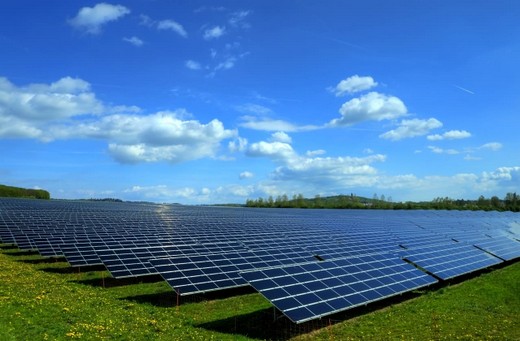 PV Power Plants project services
The NRGY Projects team will provide and support your project teams and stakeholder in the following activities for the success of your project:
Project Management




Monitoring project execution and construction works progress.




Commissioning support




Procurement of materials for the projects



For additional information on the project services, follow the
link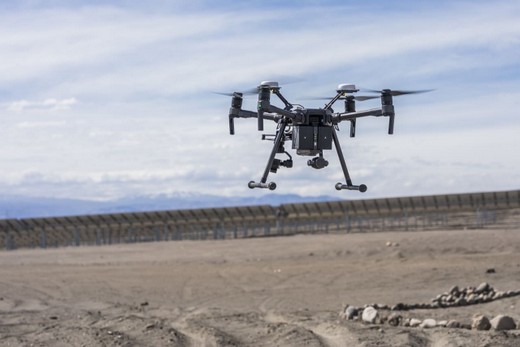 PV Power Plants and Industrial aerial inspections
SOLARIS NRGY Department provides, orthophoto and thermograms of PV power plants by the FLIR visual and thermal camera installed on our drone DJI Matrice 210 V2 RTK.
This supervision methodology of the PV-facilities allows to identify on the fly significant thermal variances on the PV-Generator, which indicates potential damages on panels or panel arrays. It allows to optimize the intervention time of the ground team to get deeper analysis and clearance of the faults to keep energy production and best performance of the system/plant.
In addition, an important advantage of aerial inspections are:
monitoring of construction works progress

safety check of the PV power plant by flying over and closer to the PV-arrays.

The NRGY Projects Drone Squadron Pilots will provide you the best imaging and assessment about the construction site activities for your evaluation and support of your project execution decisions.
Our drone pilots are continuously
trained
to fly complex missions
by the best professional flight instructors only!
We would like to thank
Dronenflugschule24
team for the great advises and for sharing their expertise with us.
PHOTOVOLTAIC SYSTEM AND SOLUTIONS
Residential
Jump into the next generation of green power generation. SOLARIS NRGY will provide you the photovoltaic systems, which will cover your consumption demands. Feel and enjoy the freedom and independency of being your own energy producer and do not worry about increasing electricity prices.
In addition, we have solar products, which will suite to your residential solar and green energy concept in terms of comfort and security (i.e. Design solar lights, video surveillance, chargers, etc.).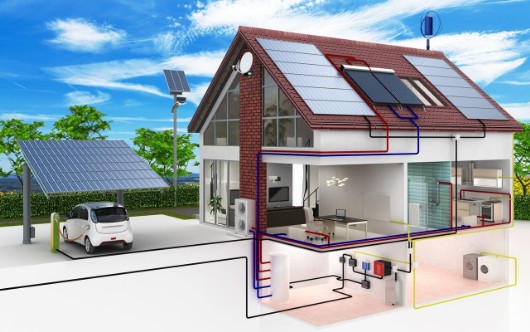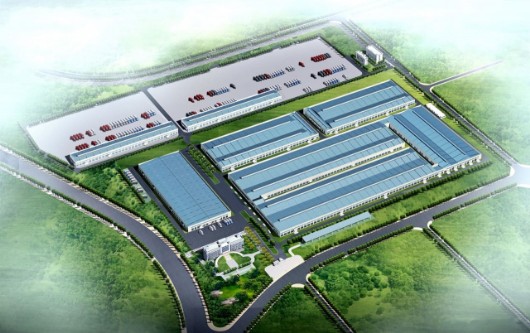 Industries
Take advantage of your industrial roof areas and get your own power generated to reduce the electricity costs of your company. Our systems are scalable and can be extended on demand, prior consultation with the grid operator. Feel the flexibility on your investment and power demand needs.
In addition, we have solar products, which will suite to your industrial solar concept for security and safety in offices, cargo docks and storage areas (i.e. solar floodlights, streetlights for parking areas, video surveillance, etc.)
Rural areas & Farms
SOLARIS NRGY brings you the power where an electrical installation in remote areas is difficult and expensive.
Get your autonomous and scalable solar system according your current and future needs. Actual technology and equipment have extraordinary reliability and performance ratios. These are being manufactured to perform under rough weather and environmental conditions. Enjoy your own power production and be part of the green energy concept for a more sustainable world.
SOLARIS NRGY provides on demand additional solar powered products and applications for your house in the mountains, wood cabins, farms and animals (i.e. electrified fencing, solar lamps, video surveillance, etc.)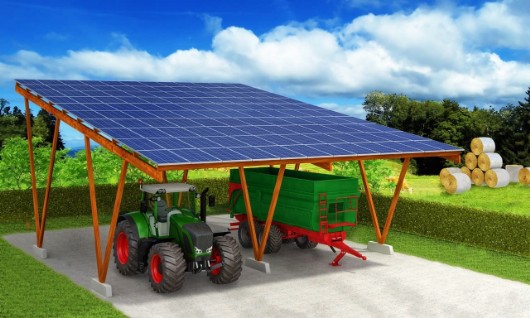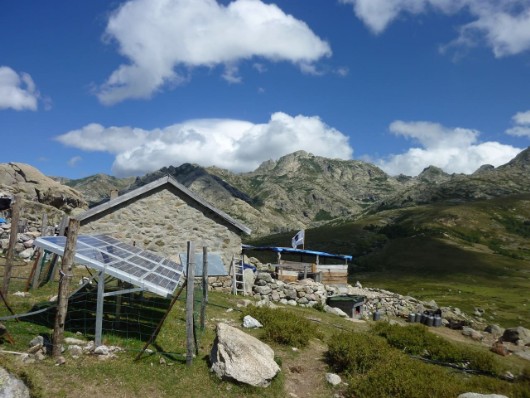 NGOs
SOLARIS NRGY provides special solar products and solutions for NGOs to contribute to the improvement of life conditions of children and communities in developing countries. (i.e. Solar light for schools, solar backpacks for students, mini-solar system for homes, social centers, streetlamps, healthcare centers, streetlights, etc.)
Let's work together for a fair and better world!
The sun has a temperature of 5.780 K and is one of the most important energy sources for life on earth as well as for our energy demands of the 21st century.
The energy of the sun is created by the nuclear fusion process. During this process radiant energy is released. It is estimated that, the energy of the sun radiated on earth produces 1,73x1017 Watts.
This is an energy equivalent of approximately 17.000.000 large power plants could generate and more than 10.000 times world's energy consumption.
This energy is a 100% natural and clean energy available on our planet. Let's make the most efficient use of it!
The sun's emitted Global Horizontal Irradiance (total amount of shortwave radiation received from above by a horizontal surface). This value is of interest to photovoltaic installations and includes both Direct Normal Irradiance (DNI) and Diffuse Horizontal Irradiance (DIF). The direct and diffuse radiation varies with latitude and climate, thereof the location and place where the solar project takes place must be taken into consideration to get the optimal radiation absorption by the PV-modules.
The total radiation (direct and diffuse) on earth surface on clear sky conditions is approximately 1.120W/m2. The radiation will be absorbed by the PV-modules producing the energy that will be used by us.
Nowadays our society has access to the proper and reliable technology to efficiently take, transform, storage and use the energy from the key power source in our solar system: THE SUN.
GO FOR SOLAR, ENJOY THE RIDE TO A GREEN MINDSET
THE GREEN MINDSET FOR A SUSTAINABLE PLANET
The decision to go for a solar system it is not only about the important factors of cost saving and producing your own energy, which are key facts to take the decision to do the investment.
Your decision to GO FOR SOLAR with our company, is your great contribution to go and walk with us together the pace of THE GREEN MINDSET.
The purpose of the GREEN MINDSET is to get nature: restored, ecologically balanced and protected for the essence of our existence and for the next generations.
Unfortunately, our environment is being devasted to satisfy human demands. Therefore, it is an urgent need to change our actual mindset and starting to live life carrying more about our vulnerable eco-systems and environment.
Living the GREEN MINDSET will contribute and inspire others in benefit of human existence, healthier environment and life balance in harmony with Nature.
Our company is committed to contribute to the restoration and protection of nature and wildlife on our planet: Earth.
The acquisition of a solar power generating system and solar products are very significant step forward to achieve the GREEN MINDSET for a better and more sustainable world for all of us.
THANK YOU VERY MUCH FOR YOUR CONFIDENCE IN OUR TEAM AND FOR VISITING US TO GET INSPIRED BY NATURE!
OUR SOLARIS NRGY SERVICES OVERVIEW
Solar solutions and products for NGOs

We provides very competitive solar powered solutions, which fit for the purppse and fullfills 100% the NGOs requierements and covers user's needs.
PV systems for Rural & Farms

This Service provides modular solutions, which are escalable in order to power up the buildings/villages accoridng the needs of the users. (i.e. rural schools or health care centers ).
Systems are designed modular for future extensions of ist capacity.
Residential PV systems

We provide SMART PV projects for private properties, estates and buildings.
The range of the solutions goes from single applicaitons to full scope solutions.
In case of rehabilitiation or extension of an existing system, an audit of the existing system has to be performed.
PV Power Plants Services

We provide single services or service packages for PV power plants:
Aerial Inspections of Photovoltaic modules of the PV-Plants with industrial drone.

Thermographic record of the PV-Plant

Monitoring project progress of installation and construction works.


Assessment, Design and Electrical Engineering.




Procurement of materials




Project Management Services




Commissioning support




Installation activities are excluded.



PV SYSTEMS Audits

We are TüV-Rheinland certified auditors for Photovoltaic systems.
Our customers can request our audit services for having a professional neutral opinion and evaluation of their installed PV SYSTEM.
Latest state of the Art equipment will used for the analysis and evaluation of your PV-System.
The Audit Document will be provided with all the proceedings, results to the Customer.
PV SYSTEMS Inspections (IEC62446 and Thermography)

Our customers can request our inspection services of their PV systems, which electrical and installation testing procedures are according the IEC 62446-23 standard as well as the thermographic inspection of the installation.
Thermographic inspection of the system is of highest importance, since it is the only proceeding that allows to identify electrical problems in the system, which can not be identified with the visual inspection. The hot spots are critical since, these are the cause of systems failure as well as of root cause of fire inition.